In February 1870, in Dunedin, the Otago School of Art, the first public art school in the country, opened with David Con Hutton as Master.
In April, in Auckland, a Society of Artists was formed, and in 1876, the Otago Art Society came into being, followed by the Canterbury Society of Arts in 1880, while in 1882 the Fine Arts Association of New Zealand was established in Wellington. This august body changed it's name in 1889 to the New Zealand Academy of Fine Arts.
The Canterbury School of Art opened in 1882, and the Wellington School of Art was established in rooms provided in the Auckland Municipal Art gallery (the country's first permanent art gallery) which had opened early the previous year.
---
During 1890, James Nairn (image top of page) from Glasgow, and the Dutchman, Petrus van der Velden arrived in the country. Van der Velden's "Storm at Wellington Heads" (image below) is typical of much European painting of the time.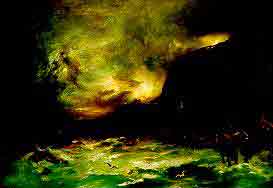 Both held attitudes associated with the Barbizon School, both asserted a beneficial influence on younger painters, instilled a sense of artistic integrity and, largely through Nairn's example, the concept of plein-air painting gained wider acceptance.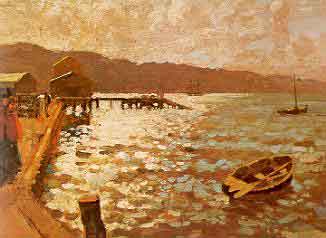 ---
In Christchurch van der Velden's paintings, typified by his sombre Otira Gorge landscapes (image below), together with his private tutorship, had a profound influence.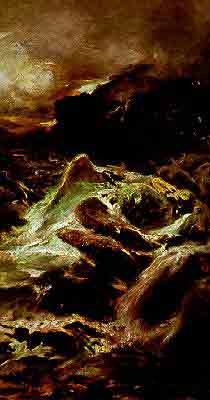 A third painter from overseas, an Italian, Girolamo Nerli (image below) was active during the 1890's, mainly in Dunedin.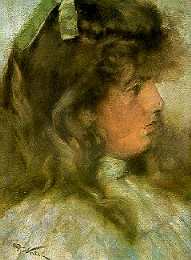 Urged on by their example, the artistic tenor of the 1890's became a catalyst for imagination of the young, but it also brought dissatisfaction with the limitations of a provincial culture so that aspirations turned towards Europe.
---
From the mid-1890's the exodus of artists overseas, either for study, or permanently, remained a factor affecting painting in NZ for the next 60 years.
The shallow nationalism of the Seddon era produced, in the main, growing pains - but it did cause some artists to seek out the unique qualities permeating the local landscape.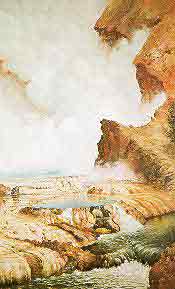 The most successful was Alfred Wilson Walsh painting the same gorge as Van der Velden ...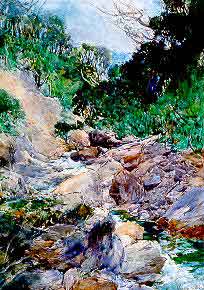 .. though artists like Frank (image below) and Walter Wright ..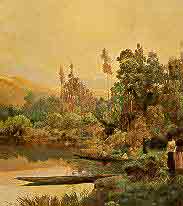 .. Charles N Worsley and William Menzies Gibb occassionally captured such facets.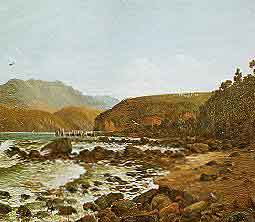 ---