Among those committed to Modernism were Gordon Walters, Colin McCahon and Milan Mrkusich. It was however, the 1948-49 public controversy in Christchurch over the McDougall Art gallery's rejection of Frances Hodgkins's "Pleasure Garden" that brought modern art into the open. The image below is Hodgkin's "Ruins" c.1938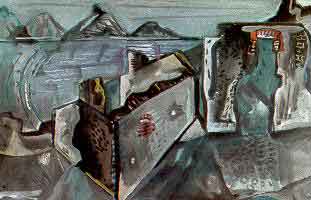 For much of the 1950's Cubism provided a diverse source of motivation for Charles Tole, Melvin Day, Colin McCahon, Louise Henderson, Freda Simmonds, Kase Jackson, Alwyn Lasenby, WA Sutton, and again entered the work of John Weeks.
---
At the same time Maori motifs were utilised by Gordon Walters and Dennis Knight Turner. Walters and Mrkusich remained the most committed of the non-figurative painters until Don Peebles began his Wellington series in the 1950's ..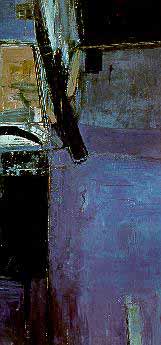 ---
In 1952, Eric Westbrook became director of the Auckland City Art Gallery; in 1956 PA Tomory. The exhibitions initiated by them not only helped towards the acceptance of modern art, they also encouraged both historical and contemporary aspects in NZ art.
The Henry Moore exhibition of 1956 aroused public curiosity and also acted as a stimulant to sculptors. Except for the work of William Wright, FA Shurrock and RN Field during the late 1920's and 1930's little happened of importance until the appearance of Alan Ingham, but frustrated, he joined the expatriates.
Then Alison Duff, Molly Macalister, Anne Severs, Russell Clark, Eric Doudney and Jim Allen became active and by the end of the 1960's had been joined by other sculptors such as Paul Beadle, Greer Twiss, Arnold Wilson, Warren Viscoe, Rosemary Johnson, Terry Powell and Marie Szirmay.
By the late 1950's, some older artists felt that their world was threatened, but while change and uncertainty were to dominate art from then on, there was greater freedom of stylistic choice.
The expressionism introduced by Rudolf Gopas (below) and his eventual influence on younger artists reflects this opening up of attitudes.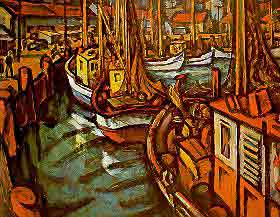 ---
In 1958 Colin McCahon (image top) visited the United States and on his return painted the "Northland Panels" in which his contact with American painting was distilled into his experience as a New Zealand painter. This was followed by his "Elias" series in which words predominate.
Such combinations of old and new forces were typical of this transitionary period when painting caught up with the Western world. In 1959 Jackie Fahey painted pictures about the frustration of women living in suburbia. A number of young Maori artists, including Cliff Whiting, Para Matchitt and Ralph Hotere made use of Western art styles but retained allegiance to their Maori heritage..
---