"The Chinese admiral and explorer, Zheng He (above), may have visited New Zealand.
The fleet that Zheng He used in his seven famous voyages was the strongest and largest in the world at the time. His ship, the largest ocean vehicle at the time, was 137 meters (400ft) long with twelve sails as well as an 11-meter-long tiller (a device connecting the rudder to the steering wheel).
Did his crew establish mines on the West Coast for gold, and jade ?
How old was the Chinese junk wrecked at Ruapuke Island, in the cold ocean south of New Zealand?
In Australia's case, Menzies claims that Zheng's vice-admirals, Hong Bao and Zhou Man, beat Capt Cook by almost 350 years. The two men, both eunuchs (as was the custom for captains), arrived in Australia in 1422 - Hong on the west coast, Zhou on the east - and spent several months exploring, landing in several places.
---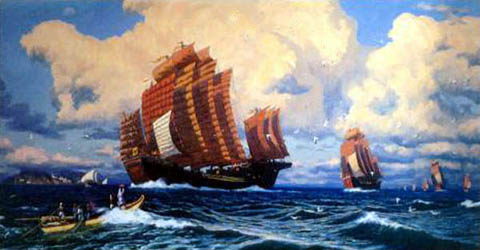 The following is excerpted straight from the 1421 website
Accounts of European Historians and Explorers :
• Captain Cook accepts he was not the first to Australasia. Maori legends – 'people from north arrive in large ships'. Captain Cook may have had Chinese map (William Li).
• From Pre-Tasman Explorers by Ross Wiseman:-
"Don Luis Arias sent a memo to his king describing a south American legend of a Pacific crossing from Chile before the European voyages of discovery carried out by light cloured or white skinned people ... who wore white woven garments..."

• Dr Arias wrote to the king at the request of Franciscan Friar John de Silva who envisaged the Southern Land (discovered by Fernandez in 1576) should be colonized before the Dutch or English discovered it.
• Juan Fernandez' records seeing Chinese people. His account says: ... he came across a long straight coastline which was at about 40eg latitude South. The inhabitants had white skin and they were in good shape and welcomed the navigators.
• Fernandez met people in the Marborough Sounds whom he described as white people and who wore white woven garments – Marborough Sounds was the home of Waitaha people. – "Pre-Tasman Explorers" by Ross Wiseman. (David Cosgrove)
• In 1773, Capt. Cook met a Ngaitahu who he describes as dark complexioned, with black curly hair, well proportioned upper body with 'remarkably slender and bandy legs'. Cook, although familiar with the Maori tongue was unable to understand their language – Maori/ Chinese amalgamated dialect and bodily features
• Tasman noted that the natives they saw in canoes have "black hair tied together right on top of their heads, in the way and fashion the Japanese have it at the back of the head…"
• Norfolk Island pines and flightless teal found at Campbell Island (pines planted over graves - Teal to keep bugs off rice - (Mendoza)
• Zhai Mo from Tai'nan – Shandong aims to show cultures of the original inhabitants along the Pacific arose from Chinese culture. From his voyage around the islands of the Southern Pacific, he collected many items from local people including totem poles and music.

" we trace our roots to China far, far away" Zhai Mo said as he repeated the words of Maori chief. "I've long dreamed of showing that the cultures of the original inhabitants along the Pacific Ocean arose from the Chinese culture"

next page
---