Various artists visited New Zealand with the explorers like Tasman, Cook, and d'Urville, and their work was essentially of a practical nature - they were here to record - and their recordings were subservient to the "scientific attitude" of the times. They were draftsmen.
William Hodges (image of "Resolution" above) was the most accomplished artist to visit New Zealand, arriving on Cook's second Pacific voyage.
His talents can be seen, when in 1773, the "Resolution" was moored in Dusky Sound and he allowed the essence of Romanticism to direct his depiction of a Maori family in the wild of the fiord to become unatmed Nature hosting the Noble Savage.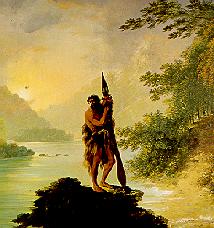 Because Hodges (above) was less attentive to the required scientific aspects, the official artist on Cook's third voyage was John Webber - who was specifically instructed to be more particular with his factual details.
---
Circumstances began to change when in October 1827, "the wandering artist" Augustus Earle, decided on an extended stay in Northland.
His careful observations (image below) in watercolour show the Maori as a proudly independant race living in harmony with a stirring natural environment.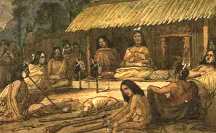 This pattern of extended visits was followed by others, the most notable being the three months spent by George French Angas in the North Island during 1843-4, drawing and painting the Maori, their activities, buildings and artifacts.
After his return to England he published "The New Zealanders Illustrated" (London 1846) with it's numerous lithographs.
Much of the early material was designed for viewers in England, and frequently made more picturesque through reinterpretation by means of engravings or lithographs.
This remained a significant factor during the early colonial period when draughtsmen were employed by the NZ Company, or similar enterprises, and often returned "home" within a few years. "Pictorial Illustrations of New Zealand (London 1847)" by Samuel Charles Brees provides such an example, as does the lithographs by T Allom, the watercolours by Charles Heaphy (image below) ...
... the etchings by Charles Meryon, and to the chatty pictures by William Strutt (image below)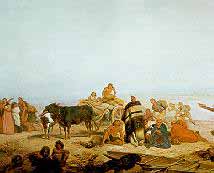 ---