An epic voyage that rivals Cook's, in all some 73,000 miles, was achieved by a Frenchman, Jules-Sebastian-Cesar Dumont d'Urville, over some 3 years in the Pacific, and he sailed into the Bay of Islands, New Zealand, in 1824.
His ship, "Astrolabe" skirted peril by striking rocks in what's now called French Pass (below) - to everyone's enormous and grateful relief, she was to lift off the rocks with only minor damage to the keel.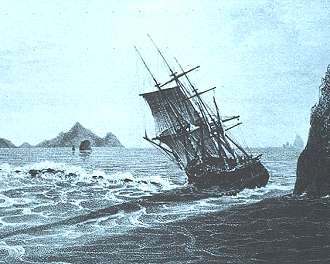 Eleven years later, d'Urville published an account of his voyages, and two volumes dealt almost exclusively with this small country at the bottom of the world, with charts, and observations of the Maori.
He observed that the natives of the Riwaka (South Island) lived in fear of the tribes in the north - who had acquired muskets, and they had good reason to be afraid!
By 1820, unwittingly abetted by the English king the musket wars had erupted, and intertribal warfare had become far more lethal.
It was no longer warrirors battling warriors with muscle, hardened wood and bone - but gunpowder and bullets.
---
The first land sale was in 1815, when Samuel Marsden, a missionary, traded axes for land to build a church at the Bay of Islands - the Church Mission Settlement - where he soon built a Mission School. Ten years later, the first Maori was baptised. The oldest existing building in New Zealand, Kemp House, was completed in 1822.
Hongi Hika, chief of the Nga Puhi, travelled to Sydney on the ship "Active" in 1814, with other chiefs of the Ngapuhi, and stayed with Samuel Marsden.
In 1818, Hongi Hika (also spelt Hone Heke) attacked tribes in the Bay of Plenty, who had been party to the death of his niece after she had been kidnapped by Australian convicts who had hijacked a ship, the "Venus", in 1806, and fled to New Zealand.
This was the first but not the last ship to be hijacked - it is thought that after sailing up and down the coast, kidnapping women and selling them, that the ship was captured, and was burned by the Maori. Only Josef Redmans, a bonafide seaman was spared.
---
In 1826, the ship "Wellington" was overpowered by 66 convicts who ordered the skipper, Captain Hardwood to set course for the Bay of Islands.
When the ship arrived, 2 English whaling ships,"Harriet", and "Sisters" were anchored, and it was soon learnt that "Wellington" was a runaway convict ship. She attempted to flee, but gunfire disabled the masts, and the felons surrendered.
When the ship had been repaired, and the convicts back in chains, "Wellington" and "Sisters" set sail for New South Wales. Six of the runaways were hung, the others sentenced to hard labout for life on Norfolk Island - but six convicts had escaped in the Bay of Islands.
Their fate is unknown - unlike those of two earlier escaped convicts.
"Narrative of a Voyage to New Zealand", by John Nicholas, published 1817, recorded the reappearance of two men who had escaped from "Active" on her last voyage to NZ in 1815
"..in their expectations of a friendly reception among the New Zealanders, they were very much deceived; and their hideous state of nudity, having only the remains of a mat tied around the waist, which served but to make their misery still more apparent, and the death-like paleness that each of them displayed in his ghostly countenance, afforded the plainest evidence of the sufferings they had endured"
" The fugitives not being willing to work, but flattering themselves with the idea that, as white men and Europeans, they would be looked up to by the rude natives as being of a superior order; and living by the industry of others, could spend their time in exalted laziness ... the chiefs told them very plainly, that if they worked but little, they should have but little to eat."
---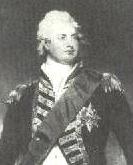 Along with another chief, Waikato, Hongi Hika was invited by a missionary, Thomas Kendall, to England in 1820, where he was received by King George IV, and feted for 5 months.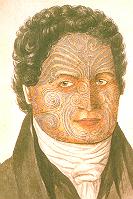 Te Kupe, another leading Maori also visted England, six years later. (Image above)
The King had great pleasure in bestowing gifts on Hongi Hika, who traded this largesse for muskets and ammunition as soon as he arrived back in Sydney, on the homeward journey
Hongi Hika's warriors were to go on and kill over 5,ooo people, enslaving many more, and driving others before him as the musket wars erupted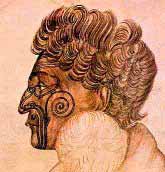 These weapons were an enormous help to Te Rauparaha too, who was moving south through the country from his base at Kapiti Island (north of Wellington), conquering all as he went.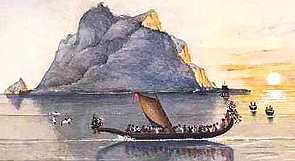 In 1830, Te Rauparaha enlisted the aid of John Stewart, the captain of a visiting trading ship, "Elizabeth", to capture a foe living at Akaroa - the highest-ranking chief of the Ngai Tahu, Te Maiharanui - in exchange for around 50 tons of flax.
Stewart persuaded the southern chief to come aboard, with his wife, Te Whe, and their 12-year old daughter. Te Rauparaha's men leapt from hiding and grabbed them, and other members of the Ngai Tahu in canoes alongside were taken prisoner, and
'The warriors, entirely naked, their long black hair, although matted with human gore, yet flowing partially in the wind; in the left hand a human head and in the right hand a bayoneted musket held by the middle of the barrel. Thus, with a song, the terrible expression of which can only be imagined by being heard, did they dance round their wretched victims, every now and then approaching them with gestures, threatening death under its most horrible forms of lingering torture. 'The captives, with the exception of one old man and a boy who were sentenced to death, were apportioned amongst the conquering warriors as slaves. The tables were laid. About a hundred baskets of potatoes, a large supply of green vegetables, and equal quantities of whale-blubber and human flesh, constituted the awful menu. The old man, from whose neck suspended the head of his son, while the body formed part of the cannibal feast, was brought forth and subjected to torture from the women before the last scene of all "
Garry Hogg: Cannibalism and Human Sacrifice, Robert Hale & Co., 1958
---
Stewart then sailed back to Kapiti, and after being paid, landed the prisoners, Te Maiharanui and Te Whe. Te Whe had spared their daughter Nga Roimata of what was to come by strangling her on the journey north. Te Maiharanui was hung upside down, and a vein in his neck opened, to bleed to death - this was not an unusual death, meant to demean the vanquished. Te Hiko is then reputed to have eaten Te Maiharanui's eyes (Maori believed that the eyes of important dead became stars)
Months later Te Rauparaha and the Te Ati Awa warriors returned and sacked the town as well, killing and eating the slain, but Stewart had sailed away - authorities in Sydney had no witnesses and had to let him go free.
The British were appalled however, at such an
"an act of premeditated atrocity on the part of the master and crew of a British vessel, the object of which was to obtain a common article of merchandise" and ultimately this led to the appointment of James Busby as British Resident in New Zealand,
"in order to check the enormities complained of, and to give encouragement and protection to the well-disposed settlers and traders"
The process of moving political control of this flegling country would slowly move from Australia to England.
New Zealand had been made a dependancy of New South Wales in 1814 but the Governor there had enough problems of his own, without worrying about the 2 islands nearly a thousand miles to the east.
---
Te Rauparaha may have inspired terror, but he was also the butt of outrageous European duplicity - for which people lost their lives.
Captain John Blenkinsopp was a whaler, married to a relative of Te Rauparaha, and he had induced the chiefs to sign a deed that they couldn't read, and which he told them entitled Blenkinsopp only to obtain wood and water, in exchange for a small cannon. What the deed actually provided was ownership of 26,500 hectares.
Blenkinsopp took the deed to Sydney and sold it, but then drowned. The mortgagee, a solicitor named Unwin claimed title to the land.
Meanwhile, Blenkinsopp's widow had sold a copy of the very same deed to a Colonel William Wakefield in New Zealand.
Inevitably, Europeans arrived to survey the land, and hostilities broke out. Henry Thompson, a magistrate arrived with a force, including Colonel Wakefield's brother Arthur, to arrest Te Rauparaha, and in the melee, a wife of Te Rauparaha's nephew, Te Rangihaeata, was killed. Arthur Wakefield and Thompson, who had been taken prisoner, were then executed by axe as revenge.
Governer Grey then kidnapped Te Rauparaha, and threw him in prison for 18 months, before returning him to his tribe at Otaki.
---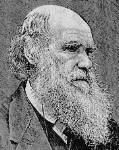 While all this was going on, in 1835, who should visit New Zealand but James Darwin, aboard the ship "HMS Beagle". He was not impressed with the country.
He wrote in his journal,
"all on board were glad to leave. New Zealand was not a pleasant place ... absent among the Maori is the charming simplicity found at Tahiti, and of the English, the majority are the very refuse of society."
There might, at the time, have been up to 30 ships at anchor in the Bay of Islands, trade being brisk, and up to 1,000 seaman roaming the shore, without any pretence of law and order.
Grog shops and brothels flourished in this political centre of New Zealand, and the situation was worse in other parts of the country. That of course, would change.
---
By this time, Maori had proved themselves as equal trading partners with the Europeans, and had bought, or invested in, oceangoing ships for the lucrative whaling and sealing industries, as well as coastal and continental trading.
(In 1857, for example, according to R. Firth, Economics of the NZ Maori, the Taupo, Rotorua and BOP natives - "being about 8,000 people - had upwards of 3,000 acres of land .. (etc) ..100 horses, 200 head of cattle, 5,000 pigs, 4 waterpower mills, and 96 ploughs, as well as 43 coastal vessels averaging nearly 20 tons each" )
However, when the trading vessel, the "Sir George Murray" was siezed in Sydney in 1835, and her cargo was sold, on the grounds that as NZ ships were not registered, they had no international recognition, and were therefore pirates, feelings ran high.
"The Flag of the Confederation of Chiefs of the United Tribes of New Zealand and the Crown of England", above, was offered in 1835 as one of three choices to New Zealanders by James Busby, and it was accepted by the northern chiefs. It symbolised a unique Maori-Pakeha nationality.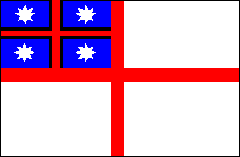 This became the New Zealand flag. Later that year, he helped to draft a Declaration of the Independance of New Zealand.
Meanwhile, an Englishman, claiming French nationality, Charles Philip Hippolytus Baron de Thierry, had been planning an independant French-loyalty state in Northland - based on a dubious and ill-fated land deal - and he had written to NZ, advising Busby that he would soon be landing, as the "Sovereign Chief of New Zealand" to rule the North.
Busby saw the opportunity, at one stroke, to deal with de Thierry's plan, to introduce British rule, and to unify a splintered country.
---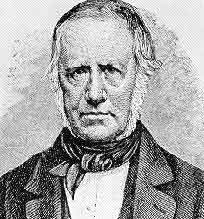 Baron de Thierry had met the chiefs Hongi Heke and Waikato while they were in England, as well as the Rev Thomas Kendall. He had paid Kendall £ 800 for "all that part of New Zealand from the narrow neck upon which Auckland now stands, to the North Cape" - in other words, 1/10 of New Zealand, all of Northland.
Two years later, de Thierry heard from Kendall that the latter had bought 40,000 acres for 36 axes.
De Thierry then approached the Colonial Office, the King of Holland, and finally the French, suggesting that he be appointed viceroy of New Zealand - and they in turn should annex the land he owned.
Ignored, and frustrated, he returned to London and tried to interest people in colonising his land, before embarking for America where he tried to interest Yankees - bestowing titles and cabinet posts in the future government. Then he sailed to Tahiti, and wrote to Busby informing the Agent that he was on his way.
Busby replied that his United Tribes of New Zealand would resist any annexation forcefully.
Baron de Thierry eventually arrived in New Zealand and was ignored, so travelled to the Hokianga to inspect his property - of the 3 chiefs who had sold land, one was dead, one was absent and the third, Tamati Waka Nene, informed the Baron that in fact he now owned only 200 acres.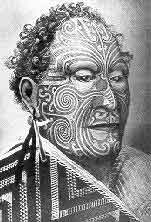 The Baron's followers disappeared, but he managed to convince the irritated Maori that armed ships were on their way to support his claims - eventually he was given 1,000 acres, over which he flew his personal flag (image below).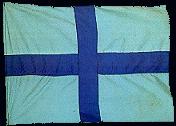 In 1838 Bishop Pompallier arrived, and the Baron let it be known that France was going to annex New Zealand. Certainly the Baron's brother was agitating in Paris for this, and French ships, including the corvette "Heroine" and the frigate "Venus" were visiting New Zealand.
His hopes however were to be dashed as the English crown moved to secure this new country.
---
The Crown acknowledged the Declaration of the Independance of New Zealand in 1836, and this was probably the founding document of New Zealand. Busby continued collecting signatures, and 52 chiefs had signed by 1839 - known as the United Tribes.
It asserted the "Rangatiratanga", independance and chieftanship of the land, the power and authority, to reside with the collective chiefs - while requiring that King William IV continue in his role of "parent" and Protector. Southern chiefs were invited to attend hui, or meetings at Waitangi, and to join.
Busby then had to convince Governor Bourke, in Sydney, to help support the fledgling New Zealand government.
Bourke sent William Hobson, on "HMS Rattlesnake" to the Bay of Islands to assess feuding and white-trash problems in 1837, and requested reports on New Zealand from both Hobson and Busby.
Hobson preferred minimal involvement. He knew that English aspirations had been well served in China and in India, simply by owning small enclaves, and trading through them.
Busby argued for a formal protectorate.
---
In the same year, the respectable citizens of the Bay of Islands petitioned the King again for English annexation, or control of New Zealand. Until then, suspected criminals had to be sent across the Tasman to Sydney, for trial, and the legality was shaky - James Busby, as the British Resident, did not have magisterial powers, other than de facto ones.
The colonial power was 2,000 miles away, in New South Wales, and vigilanties kept the peace in New Zealand. The lawlessness was of concern to Maori too - 6 years earlier, 13 of the chiefs had sent a petition to the King, asking him to be their friend and guardian.
A commentator, Augustus Earle, in 1832, had made the observation in "A Narrative of Nine Months Residence in New Zealand in 1827" that,
"there is another class of Europeans here, who are both useless and dangerous, and these lower the character of the white people in the estimation of the natives. These men are called "Beach Rangers"; most of whom have deserted from, or have been turned out of, whalers for crimes which, if they had been taken home and tried, they would have been hanged"
and further that,
"There is still a third class of our countrymen to be met with here, whose downcast and sneaking looks proclaim them to be runaway convicts from New South Wales. These unhappy men are treated with derision and contempt .. and the New Zealanders .. refuse all intercourse with them. They are idle, unprincipled, and vicious in the extreme, and are much feared in the Bay of Islands; for when by any means they obtain liquor, they prove themselves most dangerous neighbours"
Whitehall was beginning to pay attention - and they were aware of the interest that private companies had in New Zealand.
In fact, as early as 1771, before Cook's second voyage back to NZ, Benjamin Franklin had proposed sending trading ships to New Zealand.
---
Edward Gibbon Wakefield hoped to settle emigrees in New Zealand. He had a chequered beginning to say the least - as a young man in England, he had married an hieress, and after her death, literally carried away a schoolgirl, Ellen Turner, to Scotland for a marriage that would have been prevented in England - pursued by the Turner family he was arrested in France and returned to England, where he was imprisoned at Newgate for 3 years.
While in Newgate, Wakefield conceived the New Zealand Company that would buy land in New Zealand cheaply and sell it at high price to English gentry - profits would subsidise the passage of non-gentry to the new country, who would then be available to work the land.
In 1838 the Company was formed, and the New Zealand Company sent land purchasers and surveyors, under the command of Wakefield's brother, Captain Arthur Wakefield, onthe ship "Tory", in 1839, and emigrants arrived at the end of the year.
---
The Colonial Office was alerted to the risk of losing the country - they had to act, and instructed William Hobson, a naval captain, to try and obtain annexation of the whole country, for the Crown, by "free and intelligent consent" of the Maori - he arrived in New Zealand on January 29th 1840 as the new Consul/Lieutenant Governor.
The focus had moved, and the perception now was that New Zealand would not be a country that was Maori, with room in it for English settlers - but a country that would be English, with room in it for Maori.
In other words, not an independant Maori New Zealand with spiritual bonds to England, but a British New Zealand.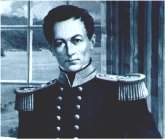 Hobson convened a New Zealand government, and he moved the seat of power from the Bay of Islands to the new capital, Auckland.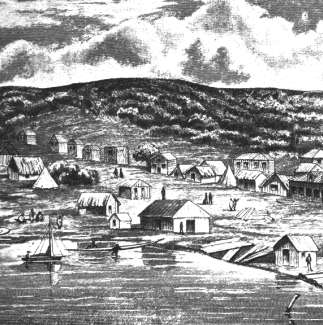 Three thousand acres of land, at Auckland, was bought for:
50 blankets
50 pounds sterling
20 trousers
20 shirts
10 waistcoats
10 caps
4 casks of tobacco
1 box of pipes
100 yards of material
10 iron pots
1 bag of sugar
1 bag of flour
and 20 hatchets
The Northern chiefs "independance"
was not going to happen - Hobson summoned Maori chiefs to a meeting at Waitangi, 6 days after his arrival, on February 5th.
---
New Zealand.org.nz Homepage here